MINI FILL CART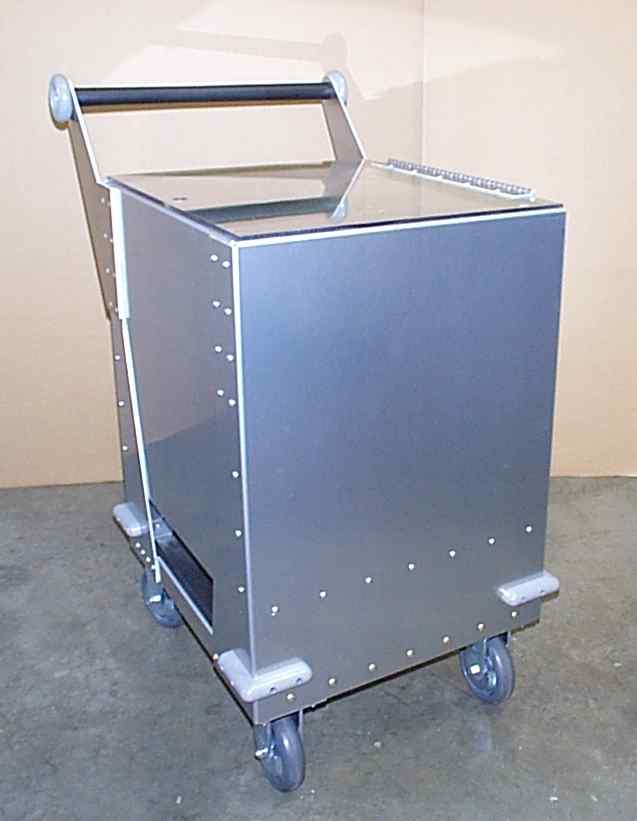 MODEL H310 mini fill cart shown with optional clear polycarbonate side hinged top and optional corner bumpers. The H310 has a 20 inch deep storage compartment. The standard H300 is identical except the storage compartment is 9.5 inches deep.

Has it been necessary for you to replace sheared rivets, repair broken handles, reattach separated tops? For years I have seen carts in service that exhibit these defects. Now CART America's mini fill cart will solve these problems "WE GUARANTY IT", is the strongest in the industry. Two-piece high strength steel Aerospace fasteners will keep your cart operational far longer than carts assembled with aluminum rivets. Standard DARCOR premium casters make our cart the easiest to push and our written warranty tells you exactly what what we guaranty and for how long (See our warranty page).
The 22 inch long by 19 inch wide by 9.5 inch deep storage compartment makes our H300 mini fill cart an excellent vehicle for transport of packaged coin, bagged coin, cash, chips or tokens up to 750 pounds in a secure manner. The H310 model features a 22 inch long by 19 inch wide by 20 inch deep storage compartment. They are both great for fast fills of remote locations. DARCOR casters are standard with thread guards to prevent damage from carpet threads and lint.
Standard Features
Six

inch premium casters with solid elastomer wheels, permanently lubricated sealed precision ball bearings and thread guards
Large diameter fully cushioned handle for user comfort
High strength two-piece steel Aerospace fasteners
Inverted base with vertical lips for non-spill storage
Donut handle bumpers
Up to 750 pound capacity
Options