PR4200 Power Fill Cart Data Sheets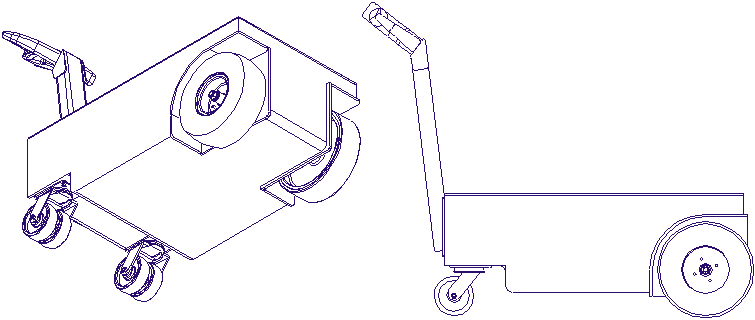 CART America started with a clean piece of paper and developed the most robust feature rich family of power carts available. Safety, reliability, maintainability and operator ergonomics are all top priority. The latest DC motor technology provides the horsepower to handle heavy payloads even on ramps and inclines. Back yourself into a wall and our cart doesn't just stop leaving you pinned, it immediately reverses direction pulls away and then stops. Check out our features and benefits and you'll agree It's "AS GOOD AS IT GETS ".
STANDARD FEATURES & BENEFITS
Designed for indoor and outdoor use.

Less than 28 inch turning radius.
Only 25 inches wide for narrow isles.
Using the latest DC motor technology our 1-1/2 hp motor can deliver up to 5 hp at 1000 rpm to handle ramps and

inclines.
Gearbox rated at 2.3 continuous Hp.
24 Volt system optimum for low speed walkers.
Programmable 300 Amp motor controller provides infinitely variable forward, reverse, drive and brake control without forward and reverse contactors.
Controller runs continuous self diagnostics stored in non volatile memory ready to upload in an optional hand held programmer for plain ENGLISH results.
Regenerative braking allows shorter stopping distances, more battery energy, less motor heating.
Ramp restraint provides automatic electronic braking when in neutral.
Four sealed 180 Ah gell cell batteries.
Built in 3

6

amp 110 VAC solid state battery charger with battery temperature monitor designed specifically for gel cell batteries.State of the art Hall Effect sensor throttle delivers 0 to 5 volts to the motor controller. No more unreliable resistance throttles.Loaded with safety features like emergency "belly button" switch. Back into a wall and the cart immediately reverses pulls away and stops.
Huge pneumatic drive wheels provide up to a 12,000 pound towing capacity.
Dual large diameter pneumatic nose wheels with a wide stance makes turning easy and give the traction needed for sharp turns.
Sealed single piece monocoque chassis fabricated from heavy gage steel plate for strength and ballast:

Prevents damage to electrical and mechanical drive components.

Keeps out water when running on wet pavement or traveling through shallow puddles.

Keeps fluid leaks contained preventing damage to floors and carpet.
All components are exposed and serviceable from above with the payload compartment removed.
Low current connections use electrical connectors for rapid error free removal and replacement of components like the control head and throttle.

Internal switches allow your safety people to select one of four maximum speeds based on your own operational requirements.
Options