PLATFORM CARTS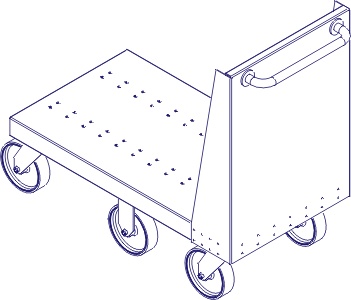 4,000 to 6,000 Pound Load Rating Platform Cart
CART America's platform carts are the strongest in the industry manufactured from heavy gage aluminum bodies mounted on heavy gage galvanized steel frames. All components are assembled with steel high strength aerospace fasteners. You will no longer experience sheared rivets or cracked welds. An optional towing kit is available for loads too heavy for manual operation.
Standard Features
Heavy gage aluminum body.
Heavy gage galvanized steel frame for high strength and corrosion protection.
High strength steel aerospace fasteners used in place of weaker aluminum rivets or welded construction.
Aluminum core 8x2 wheels with mold on polyurethane tread for high load capacity and maximum floor protection.
Ready for future installation of towing package without drilling or modification.
Options
Various wheel and caster options
Towing package
Corner bumpers