MODEL CC200 MINI MOBILE BANK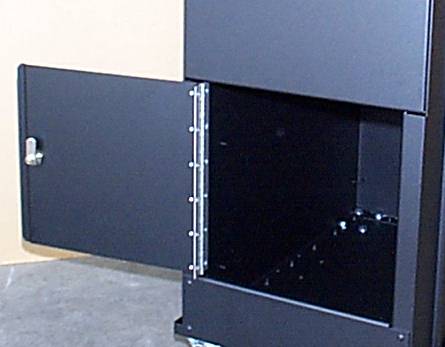 Model CC200 change cart shown with optional lower compartment door, gold "CHANGE" signs, cash insert and six casters. Cart on right includes clear acrylic panel kit for 4-color logos or custom advertising. Posters slid in behind acrylic panels without tools.
Our CC200 will hold up to $7,500 in mixed coin. That's a bunch for a cart that is only 15-1/2 inches wide and under 32 inches long including handles. Tell us what coin mix you want and we'll compute the exact amount you can carry. Our adjustable handles provide a full 10 inches of adjustment to make any height change person happy. Premium casters with sealed precision ball bearings make it roll like a dream
Standard Features
Ultra narrow at 15-1/2 inches
Up to $7,500 of mixed coin in upper compartment
Front and rear lockable sliding tops.
Handle with 10 inch vertical adjustment.
Large lower storage compartment for empty cans, chip racks or extra coin or ship storage (requires optional locking door).
Aircraft aluminum structure for high strength and light weight.
Assembled with high strength steel fasteners.
Large diameter fully cushioned handle.
Exterior finish is durable semi gloss black powder coat.
Premium casters with solid elastomer wheels, permanently lubricated sealed precision ball bearings, and thread guards..
Options
Hinged lower compartment door.
MEDECO high security locks.
Gold "CHANGE" signs on sides and front.
Decorative clear acrylic panel installation for customer furnished or custom graphics.
4-Color laminated posters produced from customer art (electronic files or camera ready art).
Interior sliding tray.
Removable cash insert.
Six caster pattern (4 swivel on corners and 2 rigids in the center) for maximum maneuverability.
Optional colors.