U300 SMALL UTILITY CART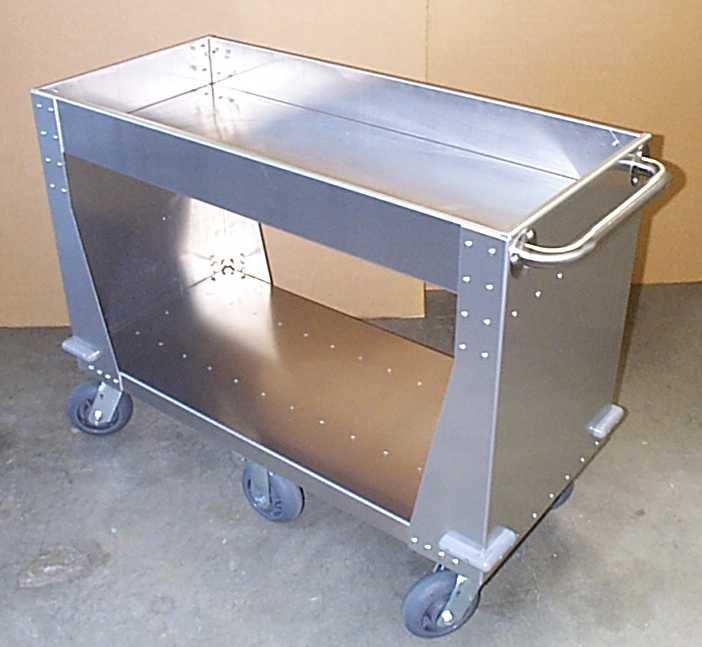 U300 Utility Cart 2,500 pound Rating. Big enough for the most demanding jobs and small enough to operate in narrow isles and hallways, this cart is perfect for packaged coin, bagged coin and general purpose use. Optional adjustable handles shown on right. If you need larger - check out our Model U340.
CART America's utility carts are manufactured from heavy gauge aircraft aluminum. All components are assembled with steel high strength aerospace fasteners. You will no longer experience sheared rivets or cracked welds. Our super duty 2,500 pound (1,133 kg) load rating lets you maximize payload without concern. The upper shelf has 4.6 inch (11.6cm) vertical lips to keep your payload in place.. Heavy duty stainless steel bar handles are standard equipment.
STANDARD FEATURES
Heavy gauge aircraft aluminum body for light weight and durability.
High strength steel aerospace fasteners used in place of weaker aluminum rivets or welded construction
Upper shelf has 4.6 inch (11.6cm) vertical lips with .6 inch (1.5cm) stiffening flanges to keep your payload in place at no extra cost.
Six six inch permanently lubricated precision ball bearing casters are standard..
Four swivel and two rigid allow turning about the cart center.
Ergonomic stainless steel bar handle located 35.7 inches (90.7cm) above the ground.
Upper shelf rated at 1,000 pounds (454kg).
Lower shelf rated at 1,500 pounds (680kg).
OPTIONS
Adjustable handles with 10 inch vertical adjustment.
Various wheel and caster options
Corner bumpers