MOBILE UNDER COUNTER BANK CONFIGURATIONS

CA2201A CA2201B CA2201C CA2201D
The CA2201 series are available in a variety of feature rich configurations including, from left to right, hinged compartment, single drawer and hinged compartment, double drawers and hinged compartment and finally four drawers.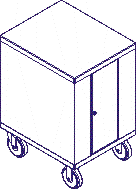 Rear Audit Door Fixed Base Option
Rear audit door shown on the left is an exclusive feature of CART America's mobile banks and allows for rapid inspection and recovery of drawer spillage. Use our fixed base option shown on right when mobility is not a requirement. Fixed banks can easily be converted to mobile banks by replacing the fixed base with a caster set.